Kenya: the Serengeti/Masai-Mara migration
Mara EcoQuest
It's the dream of every serious wildlife enthusiast: to witness once in a life-time the great Serengeti-Masai Mara wildebeest (and zebra, topi and Thomson's gazelle) migration. Every August the vast herds cross the Mara River into Kenya. And just nearby is the Mara Training Centre.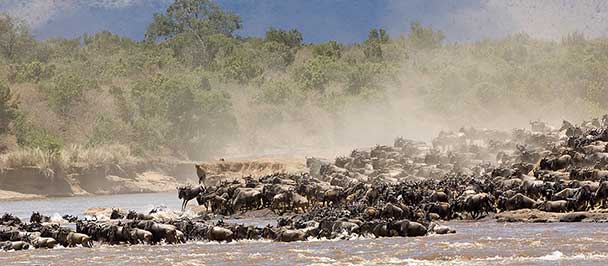 EcoTraining has teamed up with Discovery Trails to offer a very special opportunity to schools. This EcoQuest adventure is based on EcoTraining's Southern African formats, but has been reshaped to fire the interest of youngsters looking for a special 'coming of age' experience in East Africa with or without their parents. It includes unique elements reflecting the fascinating dynamics occurring in the wildlife areas of the Masai Mara. The programme is packed with the action of the 'big five' of the Masai Mara plains, exposure to the life and livelihood of the Masai Mara communities and insights into ecological processes and daunting 21st century conservation challenges.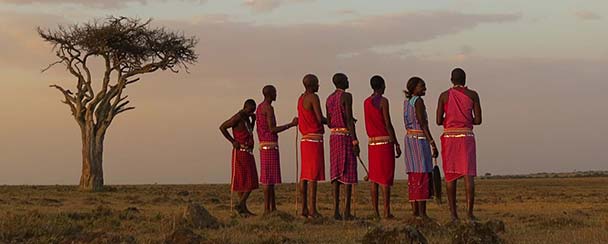 The Mara Training Centre lies within the Enonkishu Conservancy. Enonkishu was founded in 2009 by Tarquin and Philippa Wood, who together with their neighbours established a community working together to protect the fragile North Eastern boundary of the Mara-Serengeti Ecosystem, aiming to improve livelihoods and maintain heritage, through wildlife compatible land uses such as eco tourism and improved livestock production in the region.
Here's the Proposal
Send your youngster off on a fascinating cultural and environmental adventure with Discovery Trail's and EcoTraining's accredited Guides, or join them yourself in a bonding experience. Live in our Mara Training Centre with daily bush activities teeming with wildlife; learn tracks and how to trail game; discover the fauna and flora, study the Kenyan night skies and get to know how the ecosystem ticks. Venture on two trips directly into the Mara Park itself.