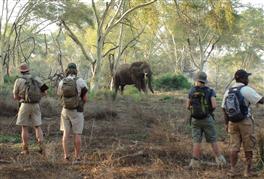 Enjoy the wilderness even as you learn about it. Come with a group of friends – or make new friends – over a week at EcoTraining's bushcamp or RETURNAfrica's trails camp.
Participants are given expert presentations on the ecology, animals and plants of the area, but the key activity involves guided walks every day in a big game area of unique and striking proportions. read more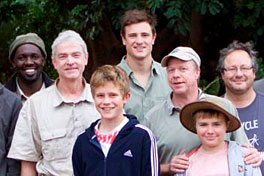 A special way for parents and children to bond, whether in a father-and-son, mother-and-daughter or any other family combination. 
Get up close and personal in the wild, together: walking, tracking, watching, listening, thinking. And, occasionally, encountering. Campfire nights under a searing Milky Way, serenaded by nightjars, bushbabies and owls – and jackals, hyenas, lions and leopards. read more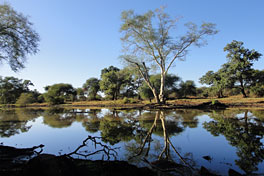 For those who wish to gain deeper insights into ecology and wildlife, we offer walking trails with top-notch scientific input.
Over a week or so at EcoTraining or RETURNAfrica you can tap the expertise of experts in ecology, botany, geology, anthropology and other subjects even as you enjoy guided field excursions – and wildlife encounters – in the Makuleke Wilderness. read more

Kruger: the Return of the Bushmen
Bushmen Master Trackers from Namibia are boosting the walking trails experience in Kruger.
See here.